Mass Times
Weekdays

| | | |
| --- | --- | --- |
| 7:00 am | Church | English |
| 8:30 am | Church | English |
Wednesday

| | | |
| --- | --- | --- |
| 7:00 pm | Church | Spanish |
Saturday

| | | |
| --- | --- | --- |
| 8:30 am | Church | English |
Saturday Vigil

| | | |
| --- | --- | --- |
| 4:00 pm | Church | English |
Sunday

| | | |
| --- | --- | --- |
| 7:30 am | Church | English |
| 9:00 am | Church | English |
| 10:30 am | Church | English |
| 12:00 pm | Church | English |
| 1:30 pm | Church | Spanish |
| 3:00 pm | Church | Spanish |
| 6:00 pm | Church | English |
Eucharistic Adoration / Adoración eucarística
Every Thursday evening for five hours beginning at 4:00pm and concluding with Benediction at 8:50pm. All are welcome.
El primer viernes de cada mes tendremos la adoración y alabanza al Santísimo Sacramento de 8:00 p.m. a 9:00 p.m. en español. Esperamos contar con tu presencia.
Confessions are available:
On Thursdays at 7:00pm
On Saturdays at 12:00pm Noon
On Sundays from 10:00am to 10:30am
On Sundays from 11:30am to 12:00pm Noon
Confessions are always available by appointment.
From the desk of
Fr. Agustin
October 1st, 2023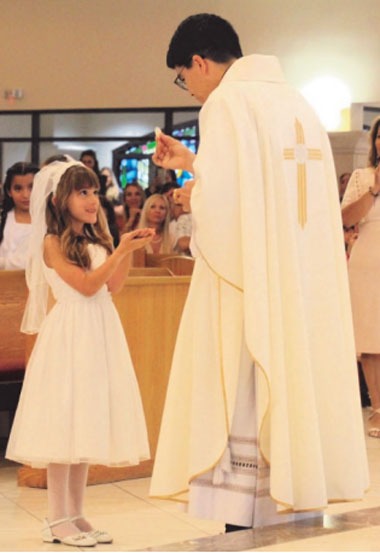 Today's parable from the Gospel of Matthew is a parable that we can all relate to. The parable gives us the example of two brothers; which are asked by the father to go to work in the vineyard, one brother will refuse but eventually change his mind and go while the other will agree to go to the vineyard but ultimately does not go.
I think when in the face of the will of God, naturally, there is a resistance. Occasionally, it occurs that the will of God is something that maybe is calling us to come out of ourselves and to give of ourselves. We face this task with hesitance but ultimately at the urging of our conscience we enter into God's will. Meanwhile, how many times has it happened that we make promises to God that we will do something or give something up; and yet we find ourselves incapable of fulfilling these promises.
The parable of today is Jesus' response to the religious establishment's resistance to accept his authority in response to Jesus having entered Jerusalem and sending away the money changer in the cleansing of the Temple. The parable repeats a consistent emphasis of Matthew. The difference between the two sons in the parable is that one fails to do what he says, and the other ends up doing what he fails to say. What matters is not what you say but what you do.
This is why we see that Jesus ends the parable with not only a mention of how prostitutes and tax collectors will enter the kingdom before the religious establishment, but he also makes multiple references to belief. For Matthew, faith and belief are essential factors to the point that when there is a lack of faith; Jesus is incapable of working miracles. What is important to understand though, is that faith and believing for Matthew is not simply something intellectual but more importantly it involves a change of mind which is portrayed through a change of life and actions.
The Beauty of St. Gregory Church
Religious Education Program

We welcome all families and children of the parish who are not currently enrolled in a Catholic School. Visit our page for more information about the program.

Make a Gift!
We are grateful for your support to our church Our Sunday Visitor on-line giving allows you to make contributions to St. Gregory the Great Church without writing checks or worrying about cash donations. OSV is safe and secure and you have full control of the contributions.
For more information on giving or for instructions on how to make an electronic transfer of a gift of stock to St. Gregory, please contact the Development Office at 954-473-8170.
Ministry Directory
You are invited to answer the call to share your gift so that the Mission and Ministry of Jesus is continued in our parish and beyond.
For more information, or more information, or to volunteer, please call the Church Office: (954) 473-6261.