Mass Times
Weekdays

| | | |
| --- | --- | --- |
| 7:00 am | Church | English |
| 8:30 am | Church | English |
Wednesday

| | | |
| --- | --- | --- |
| 7:00 pm | Church | Spanish |
Saturday

| | | |
| --- | --- | --- |
| 8:30 am | Church | English |
Saturday Vigil

| | | |
| --- | --- | --- |
| 4:00 pm | Church | English |
Sunday

| | | |
| --- | --- | --- |
| 7:30 am | Church | English |
| 9:00 am | Church | English |
| 10:30 am | Church | English |
| 12:00 pm | Church | English |
| 1:30 pm | Church | Spanish |
| 3:00 pm | Church | Spanish |
| 6:00 pm | Church | English |
New Schedule for Confessions
Sunday
10:00 am and 11:30 am
Confessions are always available by appointment.Masks and social distancing required.
Eucharistic Adoration / Adoración eucarística
Every Thursday evening for five hours beginning at 4:00pm and concluding with simple Benediction at 8:50pm. All are welcome.
El primer viernes de cada mes tendremos la adoración y alabanza al Santísimo Sacramento de 4:00 p.m. a 8:00 p.m. en español. Esperamos contar con tu presencia.
Masks and social distancing required.
From the desk of
Father Davis
December 4th, 2022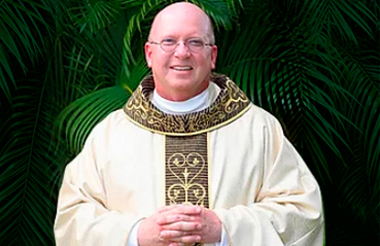 Last week our Gospel told us to keep watch, to be vigilant for the action of God. This week, on the second Sunday of Advent, we are reminded of the fact that John the Baptist was chosen by God to help people prepare the way for Jesus, whom he revealed to the people of Israel as the Messiah, the Lamb of God who takes away the sins of the world (John 1:29). John, ever-energetic, exhorted the hearers of his day to prepare the way of the Lord and make his paths straight. Not only does John provide us a spiritual voice to which to "listen," but he also gives us an example of "action" which believing people are to follow. When we know the story, we are led to live and act for the sake of the Gospel, according to the enlightenment of conscience and the voice of truth.
John was able to do what he did with such conviction because, as Pope Francis describes in a reflection, "John consecrated himself entirely to God and to Jesus." It was John's vigilance that enabled him to perceive the action of God around him. It was John's commitment to the Lord that drew him into God's plan and propelled him to "ready" his own life, and to help others "prepare the way of the Lord" too. It is never enough to merely "watch" the story play out; we must also "do" our part. An Advent spirituality leads us from hearing to doing, from reflection to practice, and from watchfulness to transformation. The life of John the Baptist impressively summarizes, then, the disposition of the authentic Christian: a person who is discerning, while also being ready to take action to enhance their own lives, and help others to do the same in the light of Christ.
Through prayer, penance, fasting, simplicity, austerity, and being grounded in God's Word, John became a catalyst of grace. Not only was he able to remain steadfast in his own convictions and faith-filled awareness, but he was able to occasion conversion and newness of life among many people of his day. People rushed to hear him and have him baptize them. His commitment to the Lord was inspiring. His convictions were exemplary. His ultimate witness to Christ, for the sake of truth, leaves us all in awe. He watched for Christ, saw the Christ, pointed others to Christ, lived in the wake of the life of Christ, and ultimately gave his life for the One who would bring life to all. John the Baptist epitomizes the objective of Advent, which is designed to usher us into a new commitment on behalf of the Kingdom of God.
It is not easy to maintain this kind of focus. Our very secular and materially-driven contemporary world provides ample daily distractions to a healthy spiritual vision for living. But the words of Pope Francis are again instructive here: "don't be afraid to go against the current, when it seeks to rob us of hope, when it proposes rotten values, values that are like food gone bad; it harms us. Be brave and go against the tide! And be proud of doing so."
Advent is meant to help us ready our lives and our world for the coming of Christ. This requires that our faith convictions come to the fore and are made more robust. May we not only find ourselves impressed with the stories of God in history, but like John the Baptist, become conduits of God's continuing action in our day. May we make straight the paths of the Lord, beginning with ourselves.
The Beauty of St. Gregory Church
Religious Education Program

We welcome all families and children of the parish who are not currently enrolled in a Catholic School. Visit our page for more information about the program.

Make a Gift!
We are grateful for your support to our church. OSV allows you to make contributions to St. Gregory the Great Church without writing checks or worrying about cash donations. OSV is safe and secure and you have full control of the contributions.
For more information on giving or for instructions on how to make an electronic transfer of a gift of stock to St. Gregory, please contact Carla Landron, Director of Development, at clandron@saintgreg.org or (954) 473-8170.
Ministry Directory
You are invited to answer the call to share your gift so that the Mission and Ministry of Jesus is continued in our parish and beyond.
For more information, or to volunteer, please call the ministry leader or the Ministry Office (954) 473-6261, ext 167 or 115.