The season of Lent began on Ash Wednesday, February 22nd.
There are traditional penitential practices which Catholics observe during this season of repentance.
Stations of the Cross
Each week during Lent, the Stations of the Cross will be conducted in our church for the convenience and spiritual enrichment of the faithful.
Stations (Via Crucis) will take place on Fridays:
12:00pm – English
7:00pm – English
8:00pm – Español
All are welcome to accompany our Lord this Lent on the Way of the Cross.
KoC Lenten Fish Fry
March 3rd, 10th, 17th and 24th
Time: 5:00pm - 8:30pmParish Center
Fish, Fries, Hush Puppies and Cole Slaw!
Dinner for adults, $16.
Children, $14.
Mozzarella sticks $6.
Drinks $2 each.
Beer and wine available for $5.
Mass Times
Weekdays

| | | |
| --- | --- | --- |
| 7:00 am | Church | English |
| 8:30 am | Church | English |
Wednesday

| | | |
| --- | --- | --- |
| 7:00 pm | Church | Spanish |
Saturday

| | | |
| --- | --- | --- |
| 8:30 am | Church | English |
Saturday Vigil

| | | |
| --- | --- | --- |
| 4:00 pm | Church | English |
Sunday

| | | |
| --- | --- | --- |
| 7:30 am | Church | English |
| 9:00 am | Church | English |
| 10:30 am | Church | English |
| 12:00 pm | Church | English |
| 1:30 pm | Church | Spanish |
| 3:00 pm | Church | Spanish |
| 6:00 pm | Church | English |
Confessions are available:
On Thursdays at 7:00pm at the Gazebo
On Saturdays at 12:00pm in the chapel confessionals
On Sundays from 10:00am to 10:30am in the chapel confessionals
On Sundays from 11:30am to 12:00pm in the chapel confessionals.
Confessions are always available by appointment.
Eucharistic Adoration / Adoración eucarística
Every Thursday evening for five hours beginning at 4:00pm and concluding with simple Benediction at 8:50pm. All are welcome.
El primer viernes de cada mes tendremos la adoración y alabanza al Santísimo Sacramento de 4:00 p.m. a 8:00 p.m. en español. Esperamos contar con tu presencia.
From the desk of
Father Davis
March 26th, 2023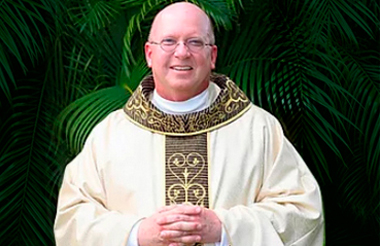 The (almost) final "act" in the Theo-drama: Jesus is the Messiah, God-Incarnate, evidenced by the raising of Lazarus from the dead.
When a loved one dies, it might seem to us as if a chapter in our own lives has come to a close. It's as if some part of us has finished or died. And, at first glance, it might seem as if there is no solution; that this is the end; only despair. Indeed, it is a deep pain that we may well have never dealt with before. Of course, it is not a physical pain that can be alleviated with analgesics. Nor is it the pain of a temporary separation. It isn't even the pain of an argument, conflict or a difference of opinion. It seems to be a pain that will never end because it tears at the core of the fabric of our lives. It is almost a hole in the heart. Such a feeling of loss, in the depths of the heart, is exactly what Jesus felt. It led him to weep at the loss of his friend, Lazarus. It certainly is what Mary and Martha felt at the loss of their brother.
Jesus, however, knew that there was a part of the story yet to be told. It was the (almost) final "act" in the Theodrama, which manifested that Jesus is the Christ, the Son of the Living God, the Messiah. This would be evidenced by his own power over even death. As such, in the story of the death and raising of Lazarus, we see the definitive indication of the true identity of Jesus Christ. As the Resurrection and the life, Jesus reveals his glory, and is a step closer to the ultimate manifestation of his power as God, which would take place on Easter Sunday. Even if death appeared to be the end, Jesus makes clear: it is not the final word. He reveals resurrection and life. In fact, He is the Resurrection and the life.
Ezekiel, the prophet had already said it. God can give life even to a field of lifeless bones. One might ask, will these bones live? We would presume that dry bones would have no hope at all. But, even there in the most lifeless of circumstances, the Spirit of God is present giving new life. This was definitively revealed in the life, death, and Resurrection of Jesus Christ. He is our hope. He has the final word.
Yes, in him, one can be reborn even from the depths of death. Likewise, one can be reborn from the many "spiritual deaths" that people encounter on their journey of life. People can often feel they are alone, hopeless, and disappointed with life or with themselves. People may have fallen into terrible sins or might feel enslaved by their own faults. Yet, Jesus reveals that there can be life. He reveals the way to mercy, healing, and to life.
Do you believe, Martha? Do you believe, Mary? The only thing that is needed of us all is...faith in Jesus, who is the Resurrection and the life, and has the power to bring us to himself. And that is the ultimate and final act of a merciful God! Let us prepare our eyes to rely again on Christ, our only hope.
The Beauty of St. Gregory Church
Religious Education Program

We welcome all families and children of the parish who are not currently enrolled in a Catholic School. Visit our page for more information about the program.

Make a Gift!
We are grateful for your support to our church. OSV allows you to make contributions to St. Gregory the Great Church without writing checks or worrying about cash donations. OSV is safe and secure and you have full control of the contributions.
For more information on giving or for instructions on how to make an electronic transfer of a gift of stock to St. Gregory, please contact the Development Office at 954-473-8170.
Ministry Directory
You are invited to answer the call to share your gift so that the Mission and Ministry of Jesus is continued in our parish and beyond.
For more information, or to volunteer, please call the ministry leader or the Ministry Office (954) 473-6261, ext 167 or 115.