From the Desk of Fr. Davis
May 28th, 2023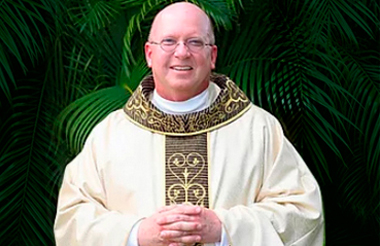 Today we celebrate Pentecost, recalling that profound outpouring of the Holy Spirit which ushered in a new era in salvation history, and the beginning of the nascent Church. Today we invoke the same Holy Spirit, which propels us in our holy vocations and gives us purpose and direction.
Pentecost Sunday is the grand conclusion of the Easter Season. Its a celebration of the Holy Spirit and a celebration of church. During these most recent 50 days since we celebrated the great Paschal Mystery at Easter, we not only have been reaffirmed in our post Resurrection-faith in Christ, we have joined the disciples in knowing that heavenly glory is our destiny. Meanwhile, Jesus' assurance of the "Promised One," the Paraclete, who would endow us with all spiritual gifts and lead us into all truth, made its powerful descent on that first Pentecost. Ever since then, everything we now do as church is the direct result of the impetus and action of the Holy Spirit. It propels us onward in discipleship. The Spirit leads us to live and move and have our being in Christ. The Third Person of the Blessed Trinity engages the hearts of men and women in the magnificent work of building the Kingdom of God. And yes, the Holy Spirit is ever at work, as well, moving us to conversion and new life each day. It is a work that requires our constant docility and cooperation, as we more and more take on the character of the people made holy by the blood of the Lamb and the fruits of the Spirit in our lives. Come Holy Spirit! Come! Inflame our hearts anew!
Our parish has been blessed this past year with many evidences of the Holy Spirit at work: Baptisms and Confirmations in abundance; long-awaited First Communions, new member registrations, conversion stories, absolutions, Anointings, healings, weddings, and vocations. There have been retreats, missions, days of recollection, Holy Hours, prayer services, inspiring catechesis, numerous new ministries among our youth and adult communities, and a renewed sense of church among us. All of these and many more besides are works of the Spirit in our parish to the glory of God.
In the Holy Spirit, we have been made the beneficiaries of so much. Now is the time to return the favor, to embrace a holy vocation of faith and service to the Glory of God.
Is your ultimate purpose, your "telos" clearly in mind as you live? May the Holy Spirit bring you the clarity, purpose and direction that you need to position you for the end-game in Christ.