September 26, 2021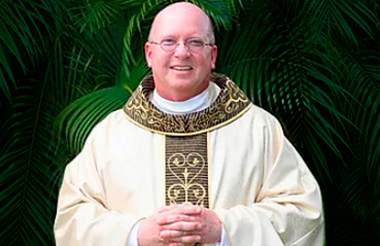 Among other things, our Gospel this weekend addresses the topic of distractions to the Christian life, things that divide our commitment to Christ, and those things that get in the way of us being heaven bound. Implied in this account, if not already abundantly clear, is our need to change, to get serious about embracing the motivations of Jesus, to have hope, and to persevere in our walk with Christ.
A priest friend of mine from New York, once said, "to pray is to change. And if I am not serious about changing, then I will stop praying." He is so right! If we do not pray, if our lives are not fully what they are capable of being, animated by the fruit of prayer, what can we possibly offer the Church in Christ? How can we be what we are created to be? When we pray with sincerity we change; we become more Christ-like. We become animated by Christ himself. When we meet God, we gain the courage to no longer live the same way. After all, where is a disciple of the Lord meant to go for direction, purpose and meaning? "You alone, Lord, have the words of eternal life." God alone removes our illusions. Prayer uproots us, therefore; it changes us, or else we are probably praying to ourselves! Perseverance in prayer is a sine qua non. For the follower of Christ, it is a must! Willingness to embrace conversion and change is a pre-requisite to the full-flowering of the Christian life. It is the process of disenchantment with our illusions. Prayer facilitates this process and helps us get rid of the distractions, and the things that get in the way of being heaven bound.
Prayer helps us to embrace the motivations of Jesus. As we see in his own earthly life, at every significant juncture (for example, in the desert as he began his ministry, before the selection of the apostles, and at Gethsemane, just to name a few), Jesus prayed! His grounding in his relationship with his Heavenly Father was always his highest priority. As such, as we seek to strengthen our focus on the matter at hand, and not live distracted lives, we must pray, do the will of the Father, and put ourselves on the back burner, so as to serve. As Saint John Vianney once said, "when tempted to lose hope, I have only one resource: i.e. to throw myself at the foot of the tabernacle, like a little dog at the foot of its master." "There are no plains in the spiritual life," said Archbishop Fulton Sheen, "there are only hills and valleys, and the key to growth in holiness is not to lose hope." And prayer certainly facilitates the growth of hope in our hearts.
When having difficulties in prayer, Cardinal Dolan of New York recommends buckling down with hope and trust. We should "hope that God is listening; hope that he is there when it seems that he has abandoned us; trust that our prayer is producing some invisible fruit, when all visible signs of success are not there." Even to hope that "wasting time with the Lord," as Thomas Merton defined prayer, "is actually more productive than getting some practical work done." Indeed, spending time with Jesus, the Beloved, in prayer is what helps us to hone in our true focus, and to get rid of the things that get in the way. Every day should find us spending a chunk of time with our Lord, the Divine Lover, talking to him, listening to him. Saint Therese has given us salient insights as well. She once said, "I was not satisfied and could not find peace. Yet, love is surely the best path leading to God. Love appeared to me to be the hinge of my vocation."
Prayer: we can't grow in love with Jesus without it. It is the formula which heals our divisions of heart, helps us to change and become more Christ-like, and helps us to persevere on the path which is heaven bound. If we are currently not praying, now is a great time to change and strengthen our commitment to Christ.