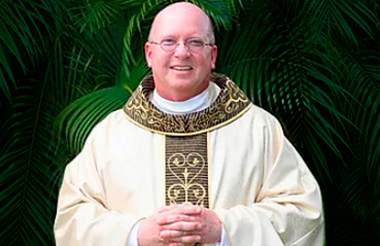 October 25, 2020
I once heard the tale of an ocean fish who, while swimming, came across an older more experienced and mature ocean fish, and asked him a question: "Hey, friend. Where is this thing that's called the ocean?" "The ocean," replied the older fish, "is the thing you are in now." Incredulous, the little fish swam away, disappointedly, continuing his search for the ocean elsewhere.
The moral of the story, of course, is that we often don't even realize what's around us; we miss things because we don't look, ponder and understand.
Like the little fish, we ourselves may even forge forward in an aimless search, even for the Lord Himself, unless we take the time to appreciate where we are at by the providence of God. It's another way of saying, as a philosopher once wrote, that we are to "dig in the narrow space that we have been given. And it is there that we will find God."
Have we found the God that we claim to worship here in this consecrated place? Do we really love the Lord with all our hearts, with all our strength and with all our minds? Do we really have that comprehensive, fully enveloping, totally consuming, kind of love that the Lord asks of us? And, if we don't, then what is it that consumes us? What is it that engages our senses, our minds, and our hearts? What is it that we have allowed to become so important, that it takes us away from the primordial request of our Maker? This weekend's Liturgy of the Word puts these questions right in front of the community of believers. That we may serve the living and true God. And love him with all that we are.
I am amazed at how, even church-going people, can misinterpret what "love for God" and "being Church" are all about. Even here where prayer, worship, and sacraments take place each day, there are many of us who still gather with divided hearts, unconvinced minds, and searching souls. Yet, the answers to the deepest questions of life have already been given to us by Christ, if we would but believe. Can we be better attuned to and perceive what God has revealed?
It stands to reason that one's zeal for Christ and the privilege of being counted among his people would surely motivate a person to put God first in their lives. It also stands to reason that someone who is part of the Church that our Lord founded would want to be an official, active, contributing member of the People of God, the Mystical Body of Christ. This, of course, would express itself in a life of prayer, through a life in conformity with our Lord's teachings, by striving to maintain ourselves in the state of grace, and in living within the sacramental system of the Church (the means instituted by the Lord to give us grace and life). To be a person who truly loves the Lord is not a person who lives aimlessly. Rather, to be a practicing Catholic, truly loving the Lord and His Church, would be to keep our eye on the prize, to seek holiness in every nook and cranny of our souls, to clear out the spiritual cobwebs, to align our lives with the priorities of Christ, by becoming instruments of peace and justice in our world, to be ambassadors of the Kingdom of God, by concern too for the needy and the downtrodden. Yes; to love the Lord above all other potentialities means to place our time, talent and even our resources at the service of the Gospel. So often, unfortunately, we miss the opportunities that are right in front of us, and we lose our way. We are tempted to create a Catholicism that is to our liking and convenience, rather than taking into account the consuming, enveloping, comprehensive love and loyalty that the Lord requires. We choose to do it our way ("a mi manera"). But, the real choice is to live life "His" way. It's actually the narrow space that we have been given.
May we truly engage our hearts, our minds and our souls in a deeply committed love of the Lord, above all else, lest we swim away disappointedly, never finding the object of our search.