Mass Times
Weekdays

| | | |
| --- | --- | --- |
| 7:00 am | Church | English |
| 8:30 am | Church | English |
Wednesday

| | | |
| --- | --- | --- |
| 7:00 pm | Church | Spanish |
Saturday

| | | |
| --- | --- | --- |
| 8:30 am | Church | English |
Saturday Vigil

| | | |
| --- | --- | --- |
| 4:00 pm | Church | English |
Sunday

| | | |
| --- | --- | --- |
| 7:30 am | Church | English |
| 9:00 am | Church | English |
| 10:30 am | Church | English |
| 12:00 pm | Church | English |
| 1:30 pm | Church | Spanish |
| 3:00 pm | Church | Spanish |
| 6:00 pm | Church | English |
New Schedule for Confessions
Sunday
10:00 am and 11:30 am
Confessions are always available by appointment.Masks and social distancing required.
Eucharistic Adoration / Adoración eucarística
Every Thursday evening for five hours beginning at 4:00pm and concluding with simple Benediction at 8:50pm. All are welcome.
El primer viernes de cada mes tendremos la adoración y alabanza al Santísimo Sacramento de 4:00 p.m. a 8:00 p.m. en español. Esperamos contar con tu presencia.
Masks and social distancing required.
From the desk of
Father Davis
September 25, 2022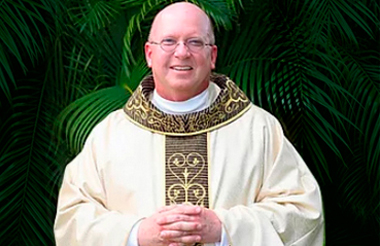 In the Christian life, it's where the tire meets the road. It's the crux of the matter. Our future at stake!
In God's mercy, we are given the gifts of life, time and eternity. Our Gospel this weekend challenges us to be sure that our spiritual focus on these gifts is clear, lest we get distracted, and waste time, and squander our futures.
The temptation of a world filled with attractions of all types, as well as of lights contrary to the Gospel, is that we can easily forget the connectedness that this life has to the next and fail to cultivate our spiritual grounding in what really matters. Complacency is and always will be a great spiritual danger to us, always affecting us if we are not vigilant. The Lord in his gracious love simply wants what is best for us. He even tells us the end game before it even happens. For this reason, the disciple who maintains clarity in his spiritual life and pursues godly virtues, will have nothing to fear at life's end. The person, however, who immerses himself in worldliness and its fleeting power, pleasure, popularity prestige and possessions, may well find himself with the consequences of eternal regret. Life is beautiful, but even good things can be ruined. The Gospel today underscores the point that, even as the Lord reveals his mercy, there will be accountability, especially for those who are complacent. Our future is at stake.
Accountability is when we take personal responsibility for our actions, choices, and obligations. This is especially true for the baptized person of faith. Members of God's household are asked to always be morally and spiritually responsible. Judgment, however, will be the ultimate "accounting" of our lives before God. At life's end, the Scriptures teach us, each person will be held accountable, and will face judgment after death, which will determine his or her everlasting reward or punishment. Among the Scripture quotations of Jesus and the Apostles, exemplified by today's parable, can be found repeated warnings about our need to keep the afterlife in mind, so that we do not become complacent. It would be spiritually dangerous, therefore, for us not to be vigilant. Our future is at stake.
In additional to personal judgment at our own passing from this life one day, Jesus has told us that a judgment will occur at his final coming in glory. The basis for this accounting will be our own personal acts and deeds and how these actions have affected other people. We are social beings, responsible not only for ourselves, but for the well-being of other people (e.g., those around us, the sick, the poor, the immigrant, the imprisoned, even those at our doorstep). This is where the tire meets the road in the Christian life. We live our life in Christ in the light of his teachings and promises, wisely having an eye on the end game. The tire meets the road to eternal glory through our daily decisions and the fruits of our deeds. Our future is at stake.
Often times, we are too easily preoccupied with temporal concerns, which are fleeting by their very nature. Unfortunately, we often neglect God, who is the ultimate goal of our lives. Jesus once said that the "pure of heart will see God," that is, those who with single-hearted focus on the matters of God and on life in him, will be with him eternally. This is the crux of the matter for which we should all long. The rich man in today's Gospel passage waited too long, squandered his time, and found himself on the other side of the chasm. He could only regret that he had been complacent in life, and now must live with the consequence and accountability for his wayward use of time.
May we always avoid spiritual complacency. May we be vigilant, staying focused on the precious gifts of life, time, and eternity. This is where the tire meets the road.
The Beauty of St. Gregory Church
Religious Education Program

We welcome all families and children of the parish who are not currently enrolled in a Catholic School. Visit our page for more information about the program.

Make a Gift!
We are grateful for your support to our church. OSV allows you to make contributions to St. Gregory the Great Church without writing checks or worrying about cash donations. OSV is safe and secure and you have full control of the contributions.
For more information on giving or for instructions on how to make an electronic transfer of a gift of stock to St. Gregory, please contact Carla Landron, Director of Development, at clandron@saintgreg.org or (954) 473-8170.
Ministry Directory
You are invited to answer the call to share your gift so that the Mission and Ministry of Jesus is continued in our parish and beyond.
For more information, or to volunteer, please call the ministry leader or the Ministry Office (954) 473-6261, ext 167 or 115.