Mass Times
Weekdays

| | | |
| --- | --- | --- |
| 7:00 am | Church | English |
| 8:30 am | Church | English |
Wednesday

| | | |
| --- | --- | --- |
| 7:00 pm | Church | Spanish |
Saturday

| | | |
| --- | --- | --- |
| 8:30 am | Church | English |
Saturday Vigil

| | | |
| --- | --- | --- |
| 4:00 pm | Church | English |
Sunday

| | | |
| --- | --- | --- |
| 7:30 am | Church | English |
| 9:00 am | Church | English |
| 10:30 am | Church | English |
| 12:00 pm | Church | English |
| 1:30 pm | Church | Spanish |
| 3:00 pm | Church | Spanish |
| 6:00 pm | Church | English |
Confessions are available:
On Thursdays at 7:00pm at the Gazebo
On Saturdays at 12:00pm in the chapel confessionals
On Sundays from 10:00am to 10:30am in the chapel confessionals
On Sundays from 11:30am to 12:00pm in the chapel confessionals.
Confessions are always available by appointment.
Eucharistic Adoration / Adoración eucarística
Every Thursday evening for five hours beginning at 4:00pm and concluding with simple Benediction at 8:50pm. All are welcome.
El primer viernes de cada mes tendremos la adoración y alabanza al Santísimo Sacramento de 4:00 p.m. a 8:00 p.m. en español. Esperamos contar con tu presencia.
From the desk of
Father Davis
February 5th, 2023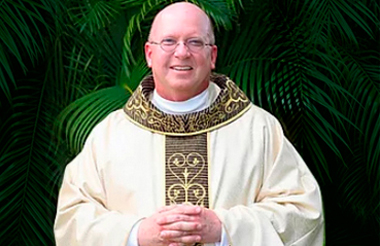 In most households, there is frequently a delineation of responsibilities and a segregation of duties. Perhaps Mom takes care of the kitchen. Dad takes care of paying the bills, and perhaps the details of household repairs. One of the kids takes out the garbage, another washes and dries the dishes. Perhaps yet another vacuums and cleans the floor, perhaps also taking care of the pets. Yes; being part of a family means sharing the responsibilities of the household, everyone doing something. In a very real way, the Church is organized around a similar sense of family responsibility. All of us must do our part. All of us must do something.
One of the characteristic ways that followers of Christ give concrete testimony about their faith in Him...is through their concern for others, especially toward the poor and needy, a central tenet of the Christian life, which Jesus described in the synagogue long, long ago.
Here in the Archdiocese of Miami, we similarly respond daily at the doors of our parishes, we do this through special appeals and opportunities for ministry. We do this when we are generous, and when doing our part. We also do this through the Annual Archbishop's Charities and Development Drive, known as ABCD. This annual drive gives concrete service to others, making clear our involvement as members of the family of the Church.
Each Winter, which is the only time of the year that there is a diocesan-wide appeal, all Catholics are called upon to help support the many ministries and services of our Archdiocese of Miami. Your support of the ABCD enables many initiatives to take place among the members of our Catholic family here in South Florida. Together, in supporting the ABCD, we continue to build the Kingdom of Christ in our own day, when we support the Church we love so much. We so often lovingly support causes that are far away from home, perhaps even in foreign countries. The ABCD enables us to make a concrete difference in the lives of brother-and-sister-Catholics right here in the Archdiocese of Miami.
Your support of the ABCD also helps to provide resources for parish ministries, faith formation services, religious education training and programming, the work of the office of Catholic Charities, youth and young adult ministry, family life support, migrant assistance, detention ministry, and Lay Ministry training. Our Catholic family has also prioritized the Respect Life Ministry and its services provided by pregnancy assistance centers in the Archdiocese. The family of the Church's membership is also concerned about Catholic seafarers whose work on cargo and cruise ships brings them to the Port of Miami and to Port Everglades. The Archdiocese of Miami is there for them, providing a point of contact with the ministering Church, providing a chapel, as well as sacramental and social services. It is amazing how needed, and appreciated, all these ministries have been for these, our brother-and-sister-Catholics in our own backyard. Once again, it gives concrete testimony to Jesus, as we assist other members of the Catholic family, right here in the Archdiocese of Miami. Your contributions to ABCD make all that possible.
To those of you who have supported ABCD in the past, I say thank you for your past and continued support. To those who have never contributed to the needs of the broader archdiocesan family, I invite you to make a pledge this year. Our family of faith is stronger, when we all do what we are capable of doing for the glory of the Lord.
The Beauty of St. Gregory Church
Religious Education Program

We welcome all families and children of the parish who are not currently enrolled in a Catholic School. Visit our page for more information about the program.

Make a Gift!
We are grateful for your support to our church. OSV allows you to make contributions to St. Gregory the Great Church without writing checks or worrying about cash donations. OSV is safe and secure and you have full control of the contributions.
For more information on giving or for instructions on how to make an electronic transfer of a gift of stock to St. Gregory, please contact Carla Landron, Director of Development, at clandron@saintgreg.org or (954) 473-8170.
Ministry Directory
You are invited to answer the call to share your gift so that the Mission and Ministry of Jesus is continued in our parish and beyond.
For more information, or to volunteer, please call the ministry leader or the Ministry Office (954) 473-6261, ext 167 or 115.