Mass Times
Weekdays
7:00 am
Church
English
8:30 am
Church
English
Wednesday
7:00 pm
Church
Spanish
Saturday
8:30 am
Church
English
Saturday Vigil
4:00 pm
Church
English
4:15 pm
Parish Center
English
Sunday
7:30 am
Church
English
9:00 am
Church
English
10:30 am
Church
English
12:00 pm
Church
English
1:30 pm
Church
Spanish
3:00 pm
Church
Spanish
6:00 pm
Church
English
New Schedule for Confessions
Thursday
7:00 pm to 8:30 pm
Saturday
12:00 pm - 1:30 pm
Sunday
10:00 am - 10:30 am
11:30 am - 12:00 pm
Confessions are always available by appointment.Masks and social distancing required.
Eucharistic Adoration
We will now offer Eucharistic Adoration in the main church every Thursday evening for five hours beginning at 4:00pm and concluding with simple Benediction at 8:50pm. All are welcome.
Masks and social distancing required.
From the Desk of
Father Davis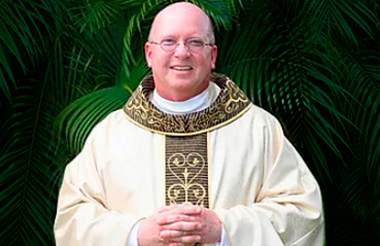 September 27, 2020
This weekend, the Scriptures poignantly identify those who speak out of "both sides of their mouths." We all know the type! There are politicians who say anything to be elected, and then don't follow-through on their promises. There are tele-marketers who try to extol the wonders of a product for purchase, and yet when bought and received, the consumer realizes that the product does not match the sales pitch. There are friends and neighbors who say, "let me know if you need anything, or how I can be of help."
And then, when a moment of need arises, they are nowhere to be found. There are those, who sign promissory notes for loans, monetary advances, purchases of goods, or even agree to university or school tuition obligations and yet walk away from responsibilities without shame. There are contractors who promise a client a certain service, repair, or warranty, but do not follow through on the terms of contract. There are also those who, as church-going individuals, go through the weekly routine, perhaps attending Mass, perhaps paying God lip-service on the outside, but interiorly their hearts are far from Gospel virtue and spiritual integration. Jesus, while speaking to the Pharisees and Scribes, addressed their inconsistency in this regard. He called them out! It was a lack of follow-through, the drama of putting on a show of religiosity. They were actually demonstrating socio-religious hypocrisy.
Yes; the parable that Jesus enunciated was meant to get them to think about the authenticity of their lives. There's hardly anything worse than saying yes, and then not showing up for duty, and skipping responsibilities. How much more true is this than when we say yes to our Lord with our "Amen" in receiving Holy Communion, and then choosing not to be true to him who saves. Consider the son in the parable. He told his father "yes," but did not go. The son deviously said what he thought his father wanted to hear, but deep inside had no intention of follow-through. The insincerity of such a disposition is nearly palpable. We, ourselves, have often publicly professed our faith. We say we believe. Yet, the question remains: have we truly welcomed the call to repent? If not, it would be like saying yes to God, and then doing nothing. Surely, this would be evidence of spiritual sloth, one of the Seven Deadly Sins.
Our first reading, from the Prophet Ezekiel, exhorts his hearers to turn away from sin and selfishness, and to do "what is right and just." Saint Paul, in our second reading today, invites us to truly turn to Christ and "believe in him." Our Lord, through his parable, calls us to authenticity in our response to the matters of faith; to be people of integrity and sincerity; to stand up and be counted, following through on our obligations before God and humankind. Let your "yes" mean yes and your "no" mean no. But, be sincere, authentic, men and women of Gospel conviction for the sake of Christ's Kingdom.
Let us resolve to honor God by the authenticity of our lives. Let us not be distracted by the drama and hypocrisy that so characterizes our broken world, by the side shows, the vitriol, and the propaganda to abandon the ways of God. We are a people called to stand up and be counted for Christ; to offer effective convictional witness to the Lord; to shape our society in the light of the Gospel and our faith in the Lord who saves. Why wouldn't we want to embrace the teachings of the only person who has ever risen from the dead? The only one who can grant forgiveness of sins? The only one who promised us the authentic way to find peace on earth and the road to a life beyond the grave? The God of heaven and earth has a plan for the redemption of the world. Will you not reach out to clasp his hand and welcome the opportunity "to do something" in response to the graciousness of the Creator of all that is? Or have you chosen the path of insincerity? Spiritually, speaking out of both sides of our mouths has never helped anyone. Turn to Christ and follow him anew.

Make a Gift!
We are grateful for your support to our church. OSV allows you to make contributions to St. Gregory the Great Church without writing checks or worrying about cash donations. OSV is safe and secure and you have full control of the contributions.
For more information on giving or for instructions on how to make an electronic transfer of a gift of stock to St. Gregory, please contact Carla Landron, Director of Development, at clandron@saintgreg.org or (954) 473-8170.
Religious Education Registration

We welcome all children of the parish who are not currently enrolled in a Catholic School. To register your child for class you must visit our Religious Education Office.
Ministry Directory
You are invited to answer the call to share your gift so that the Mission and Ministry of Jesus is continued in our parish and beyond.
For more information, or to volunteer, please call the ministry leader or the Ministry Office (954) 473-6261, ext 167 or 115.