Mass Times
Weekdays

| | | |
| --- | --- | --- |
| 7:00 am | Church | English |
| 8:30 am | Church | English |
Wednesday

| | | |
| --- | --- | --- |
| 7:00 pm | Church | Spanish |
Saturday

| | | |
| --- | --- | --- |
| 8:30 am | Church | English |
Saturday Vigil

| | | |
| --- | --- | --- |
| 4:00 pm | Church | English |
| 4:15 pm | Parish Center | English |
Sunday

| | | |
| --- | --- | --- |
| 7:30 am | Church | English |
| 9:00 am | Church | English |
| 10:30 am | Church | English |
| 12:00 pm | Church | English |
| 1:30 pm | Church | Spanish |
| 3:00 pm | Church | Spanish |
| 6:00 pm | Church | English |
New Schedule for Confessions
Sunday
10:00 am and 11:30 am
Confessions are always available by appointment.Masks and social distancing required.
Eucharistic Adoration
We will now offer Eucharistic Adoration in the main church every Thursday evening for five hours beginning at 4:00pm and concluding with simple Benediction at 8:50pm. All are welcome.
Masks and social distancing required.
From the desk of
Father Davis
October 24, 2021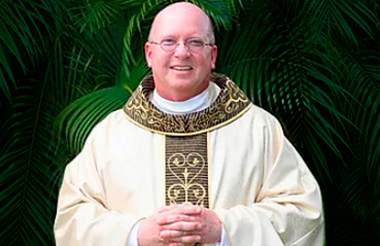 To see, know, and follow Christ differently. From time to time, the Church has asked us to reflect on the special "calling" that many men from throughout the Christian millennia have received to minister in the name of Jesus Christ.
In my case, it certainly wasn't a phone call. Nor was it a lightning bolt, a celestial voice, or a theophany. Quite frankly, had it been those things, the journey of discernment and the road to priestly ministry would likely have been easier and more clear. For me, it was a "growing up" in the Lord. It was coming to see, know, and follow the Lord differently and more maturely than I had in the past. As a child I imagined holiness as elusive; unreachable, something for the "saints." God was a transcendent God; indeed, far away. As a young man, I began to comprehend the God of the journey, a more immanent God, who accompanied me through life and its struggles. As a young adult, I began to perceive the abiding presence of God, beckoning me onward, and I began to think, "if heaven is the goal, then Church, Sacraments, and priesthood make sense."
Although God calls us all to respond to his gifts and grace in the context of our own lives, some individuals become so taken, consumed with love of the Lord and their "life in Him" that the person becomes uniquely focused on their relationship with God, His relationship to the world, and the values of eternity. What, at first, seemed elusive, becomes essential. As I matured, I recall that my constitutive purpose in life gradually became clear. People who discern the priesthood and religious life become so consumed with the mystery of God that their life's purpose becomes, above all things, intertwined with the Lord. At some point, it becomes such an all-encompassing relationship and focus that the spiritual impulses render an individual unmarriageable, providing a holy availability for the Lord's mission and Gospel agenda. Despite the obvious elements of sacrifice that such a holy vocation includes, it becomes natural, second-nature, a grace and a privilege to walk in the presence of the Lord in dedication and love. It was certainly nothing I had done or deserved. Rather, it was a discovery of realizing that God had done amazing things for me throughout a lifetime. The proper response was naturally gratitude and service.
As I studied and prayed over the Sacred Scriptures throughout my seminary training, it was reassuring that the Lord, in passages like those of this weekend's liturgy, made clear His designs. Jeremiah quotes God as saying, "I will console and guide them. I will lead them." I was glad to know that it wasn't just us at the steering wheel! In Hebrews, further insights into the priestly life and ministry emerge: "taken from among men....as representatives before God, to offer gifts and sacrifices." The priest, himself, "beset by weakness" is yet "called by God" to be a "priest forever." As the Gospel quotes Jesus in his interaction with Bartimaeus, Christ speaks to any priest who would act in his name saying, "take courage, get up, Jesus is calling you. It is your faith that has saved you."
In a world that is so often filled with distractions that are foreign to the Gospel; in a life which is regularly encouraged through culture to be self-referential, the priest is meant to stand for the "Other," namely God. He also stands for the "other," namely the people of the Church. That is why it hurts the priestly heart so much, when the contemporary world appears so godless. The priest then feels that he is wandering in a foreign land. That is why it demoralizes priestly zeal so much, when the Church for whom he has expended his life looks more like the society in which it exists than the Gospel which it is meant to serve. But, we forge ahead! With Saint Junipero Serra, we say, "adelante!" Forward march!
Our common contemporary spiritual journey needs a return to see, know, and follow Christ differently and distinctively. To do so courageously will help us on our flight plan to heaven. It might also encourage many others to come along, maybe even to consider the holy priesthood.
The Beauty of St. Gregory Church
Religious Education Program

We welcome all families and children of the parish who are not currently enrolled in a Catholic School. Visit our page for more information about the program.

Make a Gift!
We are grateful for your support to our church. OSV allows you to make contributions to St. Gregory the Great Church without writing checks or worrying about cash donations. OSV is safe and secure and you have full control of the contributions.
For more information on giving or for instructions on how to make an electronic transfer of a gift of stock to St. Gregory, please contact Carla Landron, Director of Development, at clandron@saintgreg.org or (954) 473-8170.
Ministry Directory
You are invited to answer the call to share your gift so that the Mission and Ministry of Jesus is continued in our parish and beyond.
For more information, or to volunteer, please call the ministry leader or the Ministry Office (954) 473-6261, ext 167 or 115.