Mass Times
Weekdays

| | | |
| --- | --- | --- |
| 7:00 am | Church | English |
| 8:30 am | Church | English |
Wednesday

| | | |
| --- | --- | --- |
| 7:00 pm | Church | Spanish |
Saturday

| | | |
| --- | --- | --- |
| 8:30 am | Church | English |
Saturday Vigil

| | | |
| --- | --- | --- |
| 4:00 pm | Church | English |
Sunday

| | | |
| --- | --- | --- |
| 7:30 am | Church | English |
| 9:00 am | Church | English |
| 10:30 am | Church | English |
| 12:00 pm | Church | English |
| 1:30 pm | Church | Spanish |
| 3:00 pm | Church | Spanish |
| 6:00 pm | Church | English |
New Schedule for Confessions
Sunday
10:00 am and 11:30 am
Confessions are always available by appointment.Masks and social distancing required.
Eucharistic Adoration
We will now offer Eucharistic Adoration in the main church every Thursday evening for five hours beginning at 4:00pm and concluding with simple Benediction at 8:50pm. All are welcome.
Masks and social distancing required.
From the desk of
Father Davis
January 30, 2022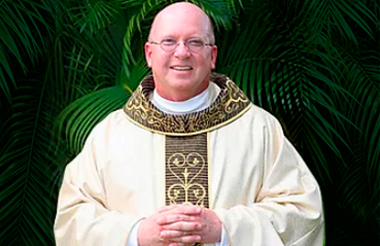 The Responsorial Psalm this weekend is quite revealing. It says, "I will sing of your salvation." Indeed our Lord has done so much for us. As the reading states, he has brought us deliverance; as the psalmist says, he has been our refuge, our rock, our hope. If he who has openly put his loving Sacred Heart on display for the life of the world, should not his followers, more and more, seek to do the same in imitation of the Master? As a result, should we not be singing a song that echoes the melody of the Lord? This is precisely why Saint Paul's words (from our second reading) are so important. They speak of love in practice.
This weekend is ABCD weekend, a unique annual opportunity to put love in practice and to respond to his "agenda" for the Church. It's not only prayers that build churches; bricks and mortar do. It's not only prayers that make the ground fertile for vocations, but seminaries and professors and spiritual directors do. It's not only good wishes that support the hungry, the sick, and the dying; rather, food pantries, chaplains and hospice care facilities do. Yes; the annual ABCD campaign made in all 110 parishes in South Florida this weekend is an appeal to all of us, as members of the Church in the Archdiocese of Miami, to heed the Lord's calling to build his Church, to pass on the faith, to form future ministers, to attend to the needy through the Church's many social services, and make a personal investment and pledge of support for the mission of Christ. The video presentation we will see today only scratches the surface of this sublime mission, but makes clear the requirements of faith, hope and love.
I am happy to report that our parish has annually been a generous community of such support not only for our local parish, but also for the broader community as well. Our many second collections and our annual Archbishop's Charities and Development drive, are ways in which that generosity has been manifest in an exemplary way here. The days of just throwing a buck into the collection to sustain a large and thriving Church are over. Nowadays, it costs $5.83 just for a cup of coffee at Starbucks! Not even that addresses much in our contemporary economy, where people in need abound, and substantial resources are required to minister in the name of Christ.
No, our life in Christ calls us to do so much more. His voice beckons us toward sacrifice, toward generosity and charity. How else can the needs of God's people be met, if we each don't do our parts to promote the mission of Christ's Kingdom. Yes, of course, we all make individual decisions and personal gestures to show our love of God every day. However, periodically God's people rally in support of broader causes, more expansive initiatives that are often well beyond our personal reach, so as to positively impact the mission and ministry of the Church itself, acting in the name and for the love of Christ. All of us invited. All of us should take our rightful place and be counted among those who inwardly feel the nudge of Jesus to act, to care, and to share what we have. What is given is transformed by grace into a blessing for others. It is always important that we listen to the voice of the Lord, who needs our hands and feet, yes, even our dollars, to advance the causes that are so dear to his mission.
May our ears be open to the needs of God's Church. And may our hearts be warmed with holy inspirations to respond. Thank you in advance.
The Beauty of St. Gregory Church
Religious Education Program

We welcome all families and children of the parish who are not currently enrolled in a Catholic School. Visit our page for more information about the program.

Make a Gift!
We are grateful for your support to our church. OSV allows you to make contributions to St. Gregory the Great Church without writing checks or worrying about cash donations. OSV is safe and secure and you have full control of the contributions.
For more information on giving or for instructions on how to make an electronic transfer of a gift of stock to St. Gregory, please contact Carla Landron, Director of Development, at clandron@saintgreg.org or (954) 473-8170.
Ministry Directory
You are invited to answer the call to share your gift so that the Mission and Ministry of Jesus is continued in our parish and beyond.
For more information, or to volunteer, please call the ministry leader or the Ministry Office (954) 473-6261, ext 167 or 115.