Mass Times
Weekdays

| | | |
| --- | --- | --- |
| 7:00 am | Church | English |
| 8:30 am | Church | English |
Wednesday

| | | |
| --- | --- | --- |
| 7:00 pm | Church | Spanish |
Saturday

| | | |
| --- | --- | --- |
| 8:30 am | Church | English |
Saturday Vigil

| | | |
| --- | --- | --- |
| 4:00 pm | Church | English |
| 4:15 pm | Parish Center | English |
Sunday

| | | |
| --- | --- | --- |
| 7:30 am | Church | English |
| 9:00 am | Church | English |
| 10:30 am | Church | English |
| 12:00 pm | Church | English |
| 1:30 pm | Church | Spanish |
| 3:00 pm | Church | Spanish |
| 6:00 pm | Church | English |
New Schedule for Confessions
Sunday
10:00 am and 11:30 am
Confessions are always available by appointment.Masks and social distancing required.
Eucharistic Adoration
We will now offer Eucharistic Adoration in the main church every Thursday evening for five hours beginning at 4:00pm and concluding with simple Benediction at 8:50pm. All are welcome.
Masks and social distancing required.
From the desk of
Father Davis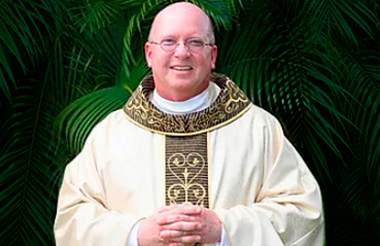 May 16, 2021
Years ago, when I went away to college, I developed great friendships. I had met people from all over the country and all over the world that I came to treasure greatly. Those friends enriched my life tremendously. We shared a lot of great moments along the journey of four years. I came to enjoy, away from home, what I termed as "family away from family."
Having journeyed together through the thick and thin of things, the insecurities and struggles, the hard work and selfdiscovery, and the challenges of discernment and making future plans, not to mention the demands and rigors of shared academia, we had all come to know each other very well. When the day of graduation came, of course, some four years later, it was a day of mixed emotions. There was delight in the moment of achievement. It was a personal glory moment to graduate with honors. But, it was also somewhat of a sad moment. All of us, friends, who were companions on the journey, who would now be going back to our respective parts of the country and begin to live our lives, may never be seeing each other ever again. When such moments happen in life, when you know you are never going to see someone again, words become fewer; they are from the heart; indeed, they become more profound. They etch themselves in our memories, sometimes in our very souls.
This weekend we celebrate the Ascension of the Lord. Forty days after his Resurrection, he leaves the Apostles, gloriously ascending before their eyes, never again to relate to them in that kind of privileged and distinctive way as they had come to experience him during that post-Easter period. In this context, at the moment of departure, Jesus gives them his final words. Indeed, they are his final instructions. Everything is summarized. Words became fewer. They came from his heart. The Apostles never forgot them. Jesus told them: go baptize, observe the commandments, and know that "I" am with you always. These instructions became the "soul" of the Church's very identity, its impetus for evangelization. Jesus' final words, as he ascended into heavenly glory, became the Church's final "marching orders." They are the essentials of a Church that evangelizes in the name of the Risen Christ even today.
In this Bulletin and on our website, can be found our "mission statement," a direct outflow of our foundational faith in Christ. We are here "together, sharing the faith and building a future in Christ." All of our efforts are ultimately assessed in the light of Jesus' own final instructions to the nascent Church on that Mount of Ascension many years ago. Our efforts as contemporary followers of Jesus become credible when we are seeking the salvation of souls by drawing people to the saving Sacraments of Christ. Our authenticity becomes evident when our own lives are grounded in the virtues found "in the good book," the Bible, the Commandments, and a way of life consonant with God and godliness. We are given confidence in these efforts, because Jesus has assured us of his abiding presence, i.e., "I will be with you always, even until the end of the age." Sometimes we continue onward, unaware, as the disciples on the Road to Emmaus, who initially did not recognize the Lord even as he journeyed by their side on the way. Yet, in a discipleship which is credible, our spiritual eyes will be sharp to interpret the journey of life and its spiritual significance, knowing that the Risen Lord is with his Church and is with his people, always.
Today, on the Solemnity of the Ascension, may we double down, and take confidence in his profound final instructions to us. May our identity and evangelizational purpose become clear, as we allow the "marching orders" of the Risen Christ to be etched in our souls.
Religious Education Program

We welcome all families and children of the parish who are not currently enrolled in a Catholic School. Visit our page for more information about the program.

Make a Gift!
We are grateful for your support to our church. OSV allows you to make contributions to St. Gregory the Great Church without writing checks or worrying about cash donations. OSV is safe and secure and you have full control of the contributions.
For more information on giving or for instructions on how to make an electronic transfer of a gift of stock to St. Gregory, please contact Carla Landron, Director of Development, at clandron@saintgreg.org or (954) 473-8170.
Ministry Directory
You are invited to answer the call to share your gift so that the Mission and Ministry of Jesus is continued in our parish and beyond.
For more information, or to volunteer, please call the ministry leader or the Ministry Office (954) 473-6261, ext 167 or 115.