Mass Times
Weekdays

| | | |
| --- | --- | --- |
| 7:00 am | Church | English |
| 8:30 am | Church | English |
Wednesday

| | | |
| --- | --- | --- |
| 7:00 pm | Church | Spanish |
Saturday

| | | |
| --- | --- | --- |
| 8:30 am | Church | English |
Saturday Vigil

| | | |
| --- | --- | --- |
| 4:00 pm | Church | English |
| 4:15 pm | Parish Center | English |
Sunday

| | | |
| --- | --- | --- |
| 7:30 am | Church | English |
| 9:00 am | Church | English |
| 10:30 am | Church | English |
| 12:00 pm | Church | English |
| 1:30 pm | Church | Spanish |
| 3:00 pm | Church | Spanish |
| 6:00 pm | Church | English |
New Schedule for Confessions
Sunday
10:00 am and 11:30 am
Confessions are always available by appointment.Masks and social distancing required.
Eucharistic Adoration
We will now offer Eucharistic Adoration in the main church every Thursday evening for five hours beginning at 4:00pm and concluding with simple Benediction at 8:50pm. All are welcome.
Masks and social distancing required.
From the desk of
Father Davis
November 28, 2021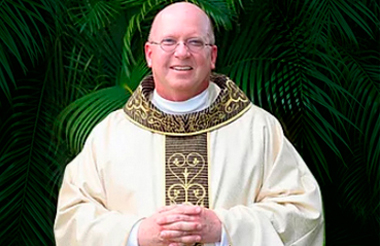 We've begun Advent, a new liturgical year. This weekend's Scriptures invite us to embrace a spiritual posture of alertness, being aware of the signs of the times, understanding the nearness of salvation. In short, as we embark upon the season of Advent, we are called upon to appreciate just how suddenly the day of the Lord can appear. His is a plan for a world redeemed. He promised to come, and he came. His advent among us was the most clear manifestation of grace and "clear calling" to authentic living and righteousness that the world has ever known. What a clarion opportunity for a fresh outlook and invigoration to our lives of faith as we begin a new liturgical year!
Currently, in the light of our present religious practice, are we really acknowledging the truth of what His first historical coming among us meant? Do we experience His daily coming to us in mystery, and live accordingly? Do we await with vigilance the fulfillment of His plans for a world redeemed, when He comes again in glory? The season of Advent gets us in touch with the "three" comings of Christ: He came in history, He comes to us in mystery, and he will come to us one day in glory. Have we seen it, do we live it, and are we orienting our lives toward the preparation required to greet Him when He comes again? Just as the last liturgical year ended with a calling to acknowledge Christ as King and to live for Him always, so, too, as we begin a brand new liturgical year of grace this weekend, the believing community is likewise invited to have its eyes open, fostering a posture of alertness, so that in all times and moments, we may be witnessing to Christ with our lives until He comes again. This "ever-ready" vigilance is nothing new. Nor is it something to be afraid of. A genuine relationship with the Lord of glory is the foundation for healthy Christian living. Inspired by the story of Jewish longing for the coming of Christ, we meaningfully recognize what God has done in history. We recall the story of how He prepared the earth for the coming of Christ, and how in the fullness of time, His plan came to be. We also live for Him in the here and now. In the wake of the grace of His first coming among us as man, we are a people who are ever-different. With the eyes of faith we now recognize the presence of the One who is with us even still. Finally, we likewise stand in a posture of hope and anticipation for what will be by His grace. This "three-fold" spiritual posture is the foundation for what we will warmly recall in a few weeks when we celebrate the annual commemoration of our Lord's Nativity. Far from being a mere nostalgic celebration, the entire Advent and Christmas cycle call us to recognize what now IS by the grace of God: how God is Emmanuel, God with us. Yes. "The days are coming." Will you be alert enough to notice?
The Beauty of St. Gregory Church
Religious Education Program

We welcome all families and children of the parish who are not currently enrolled in a Catholic School. Visit our page for more information about the program.

Make a Gift!
We are grateful for your support to our church. OSV allows you to make contributions to St. Gregory the Great Church without writing checks or worrying about cash donations. OSV is safe and secure and you have full control of the contributions.
For more information on giving or for instructions on how to make an electronic transfer of a gift of stock to St. Gregory, please contact Carla Landron, Director of Development, at clandron@saintgreg.org or (954) 473-8170.
Ministry Directory
You are invited to answer the call to share your gift so that the Mission and Ministry of Jesus is continued in our parish and beyond.
For more information, or to volunteer, please call the ministry leader or the Ministry Office (954) 473-6261, ext 167 or 115.