Mass Times
Weekdays

| | | |
| --- | --- | --- |
| 7:00 am | Church | English |
| 8:30 am | Church | English |
Wednesday

| | | |
| --- | --- | --- |
| 7:00 pm | Church | Spanish |
Saturday

| | | |
| --- | --- | --- |
| 8:30 am | Church | English |
Saturday Vigil

| | | |
| --- | --- | --- |
| 4:00 pm | Church | English |
Sunday

| | | |
| --- | --- | --- |
| 7:30 am | Church | English |
| 9:00 am | Church | English |
| 10:30 am | Church | English |
| 12:00 pm | Church | English |
| 1:30 pm | Church | Spanish |
| 3:00 pm | Church | Spanish |
| 6:00 pm | Church | English |
New Schedule for Confessions
Sunday
10:00 am and 11:30 am
Confessions are always available by appointment.Masks and social distancing required.
Eucharistic Adoration / Adoración eucarística
Every Thursday evening for five hours beginning at 4:00pm and concluding with simple Benediction at 8:50pm. All are welcome.
El primer viernes de cada mes tendremos la adoración y alabanza al Santísimo Sacramento de 4:00 p.m. a 8:00 p.m. en español. Esperamos contar con tu presencia.
Masks and social distancing required.
From the desk of
Father Davis
July 3, 2022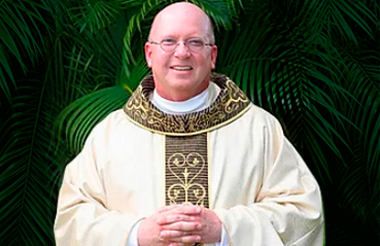 Last month, I was invited to and later attended the episcopal ordination of a priest friend of mine from the Archdiocese of Cincinnati, who was ordained as the youngest bishop in the United States. Bishop Earl Fernandes, at the age of 49, the son of immigrants from India, is now the new Bishop of Columbus, Ohio. His ordination ceremony was stunningly inspiring! The ritual itself would make any Catholic proud!
The symbolism of every detail was rich in meaning and spiritual significance. All of us in the assembly were on the edge of our seats with holy awe as we watched what God was doing through sacred rites for this newest successor to the Apostles. The packed church and the enormous number of bishops and priests who were in attendance spoke of the magnitude of the moment. The joy and enthusiasm of his family, friends, and well wishers were also quite moving. The liturgy was solemn, stately, and beautiful in its elegance. Truthfully, as a liturgist myself, this fact alone would have been enough for me to be swept away in gratitude and praise to God that I was even privileged to be present for such a prayerful event in the history of the Church in America. As a young seminarian I, myself, had been to the installation of one of his predecessors, three bishops previous (back in 1983). But, this time I was thrilled to see someone that I have shared ministry with, not to mention together having shared many dinners, conversations, and dreams, I was simply in awe!
During his remarks at the end of the ceremony, he made a carefully formulated comment. He told the people of his local Church: "this year, there have been more bishops ordained in our diocese than there have been priests!" What he meant to say was that his episcopal ordination, with one new bishop, was the ONLY ordination this year. There were no new priestly ordinations there in this year of 2022. He went on to compliment the Archbishop of Cincinnati, who over the past 12 years, has presided over a vocation boom in Southwestern Ohio. Many priestly ordinations have regularly taken place in Cincinnati. Bishop Fernandes expressed hope to replicate that trend in his new diocese. Even here in the Archdiocese of Miami, we have been blessed with a regular crop of new priests ordained each year. One of which is our very own Father Agustin, who is the 6th newly ordained priest that I have had the privilege to mentor and help to transition into full time priestly ministry. When all is said and done, in addition to all of us being living examples of our faith to inspire the next generation into Gospel service, one of the key components in fostering priestly vocations is, of course, prayer.
Today's Gospel clearly quotes Jesus as saying, "the harvest is abundant but the laborers are few, so ask the Master of the harvest to send out laborers for his harvest." Yes; praying for holy vocations makes the ground fertile for our community to tune into vocational sensitivities, even as we intercede on behalf of the Church's ministerial needs. Indeed, we must first turn to the Lord, the Master of the harvest, to call, inspire, prompt and motivate courageous young men to respond to the "great commission," going out in the name of the Lord, to advance the Gospel, its virtues, and therefore build up the Kingdom of God. Have you prayed for vocations to the priesthood and religious life lately? Have you created a spiritual environment in your own home through which your own children and grandchildren might perceive the Lord of glory calling them to one day serve in his name? Currently at Saint Gregory, there is not one of our four priests who are originally from Florida (I am from Ohio; Father Gustavo is from Colombia; Father Agustin is from California, and Father Humphrey is from Nigeria). I am certain the Lord is calling men from Florida to Gospel service. Even from our own parish! Have you prayed for vocations lately?
Allow me to suggest praying a prayer, penned over ten years ago by the Archbishop of Cincinnati, as a catalyst for an increase of local holy vocations, so desperately needed for the future of our Church: "Almighty Father, You have created us for some definite purpose. Grant us the grace to know the path You have planned for us in this life and to respond with a generous 'yes.' Make our archdiocese, parishes, homes and hearts fruitful ground for Your gift of vocations. May our young people respond to Your call with courage and zeal. Stir among our men a desire to be good and holy priests. Bless us with consecrated religious and those called to a chaste single life, permanent deacons, and faithful husbands and wives, who are a sign of Christ's love for His Church. We commend our prayer for vocations to You, Father, through the intercession of Mary our Mother, in the Holy Spirit, through Christ our Lord. Amen."
The Beauty of St. Gregory Church
Religious Education Program

We welcome all families and children of the parish who are not currently enrolled in a Catholic School. Visit our page for more information about the program.

Make a Gift!
We are grateful for your support to our church. OSV allows you to make contributions to St. Gregory the Great Church without writing checks or worrying about cash donations. OSV is safe and secure and you have full control of the contributions.
For more information on giving or for instructions on how to make an electronic transfer of a gift of stock to St. Gregory, please contact Carla Landron, Director of Development, at clandron@saintgreg.org or (954) 473-8170.
Ministry Directory
You are invited to answer the call to share your gift so that the Mission and Ministry of Jesus is continued in our parish and beyond.
For more information, or to volunteer, please call the ministry leader or the Ministry Office (954) 473-6261, ext 167 or 115.