Mass Times
Weekdays
7:00 am
Church
English
8:30 am
Church
English
Wednesday
7:00 pm
Church
Spanish
Saturday
8:30 am
Church
English
Saturday Vigil
4:00 pm
Church
English
4:15 pm
Parish Center
English
Sunday
7:30 am
Church
English
9:00 am
Church
English
10:30 am
Church
English
12:00 pm
Church
English
1:30 pm
Church
Spanish
3:00 pm
Church
Spanish
6:00 pm
Church
English
New Schedule for Confessions
Thursday
7:00 pm to 8:30 pm
Saturday
12:00 pm - 1:30 pm
Sunday
10:00 am - 10:30 am
11:30 am - 12:00 pm
Confessions are always available by appointment.Masks and social distancing required.
Eucharistic Adoration
We will now offer Eucharistic Adoration in the main church every Thursday evening for five hours beginning at 4:00pm and concluding with simple Benediction at 8:50pm. All are welcome.
Masks and social distancing required.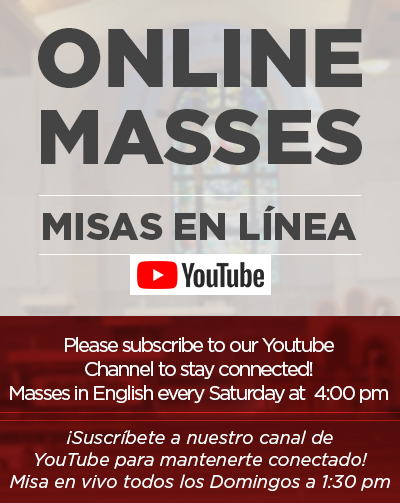 From the Desk of
Father Davis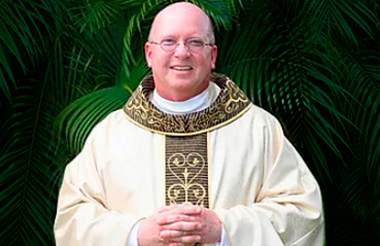 January 24, 2021
Next week the Church in America celebrates National Catholic Schools Week. It is an occasion for all of us to reflect on the significant impact that Catholic Education has had on us individually and even as a nation.
According to the Sociologist, Father Andrew Greely, the education that is passed on through the Catholic school system offers the highest chance of a future active practice of the Catholic faith. Furthermore, Catholic schools have been an example to the nation in the way they have positioned their graduates for collegiate education and leadership in both ecclesial and civic service. No less than five members of the United States Supreme Court have benefited from the formation they received in Catholic schools. Countless priests and nuns, deacons and lay faithful, married and single, have likewise attributed the beginnings of their vocational walk with Christ to the helpful and inspiring impact of what they received as they passed through the halls of a Catholic school in their youth. Catholic schools have done all of this, not through the support of any tax dollars, but through the sacrifice of parents who (by practically making a sacramental decision) have invested in their children's future through the payment of tuition dollars. Catholic schools, being tuition driven, have been exemplary, too, in the way they have demonstrated good stewardship, making these limited dollars go far.
In many ways, our Catholic school system is the best that the Church has to offer its people, especially our children. The atmosphere of Catholic faith, the nurturing environment, the value-centered discipline and the holistic training of body, mind and soul all contribute to the formation of character, selfesteem and a moral outlook that unites us with Christ and His Church. This, please God, will brim over into spiritual health and well-being for a lifetime. The Church has invested enormous amounts of human and financial capital in our Catholic schools and with good reason. They are not simply private schools; they are Catholic schools, which educate us with the mind and heart of Christ.
Here at Saint Gregory Catholic School, there is a 61 year history of excellence in passing on our treasured Catholic faith and equipping the children of our parish to enjoy life in its fullness in the Catholic tradition. A central component of this tradition is "ritual," i.e., the sacramental life of the Church. But, important as well is the notion of "community." How many relationships have been formed? How deep is the sense of togetherness on the journey that has been developed? How much ministry and community service have countless graduates provided, which show evidence of the formation they received in their Catholic school? Good citizens and good disciples. It's really inspiring when you think of it!
We thank God for the vision of Baltimore's Bishop John Carroll, Philadelphia's Saint John Neumann and Maryland's Saint Elizabeth Ann Seton, for inspiring an appreciation for the importance of Catholic schools in our land.
We thank God, too, for the many bishops of the United States who have made Catholic education a lifegiving priority in the ministry and service of the Catholic Church in America. Indeed, we have been blessed!
The Beauty of St. Gregory Church

Make a Gift!
We are grateful for your support to our church. OSV allows you to make contributions to St. Gregory the Great Church without writing checks or worrying about cash donations. OSV is safe and secure and you have full control of the contributions.
For more information on giving or for instructions on how to make an electronic transfer of a gift of stock to St. Gregory, please contact Carla Landron, Director of Development, at clandron@saintgreg.org or (954) 473-8170.
Religious Education Registration

We welcome all children of the parish who are not currently enrolled in a Catholic School. To register your child for class you must visit our Religious Education Office.
Ministry Directory
You are invited to answer the call to share your gift so that the Mission and Ministry of Jesus is continued in our parish and beyond.
For more information, or to volunteer, please call the ministry leader or the Ministry Office (954) 473-6261, ext 167 or 115.