Mass Times
Weekdays

| | | |
| --- | --- | --- |
| 7:00 am | Church | English |
| 8:30 am | Church | English |
Wednesday

| | | |
| --- | --- | --- |
| 7:00 pm | Church | Spanish |
Saturday

| | | |
| --- | --- | --- |
| 8:30 am | Church | English |
Saturday Vigil

| | | |
| --- | --- | --- |
| 4:00 pm | Church | English |
Sunday

| | | |
| --- | --- | --- |
| 7:30 am | Church | English |
| 9:00 am | Church | English |
| 10:30 am | Church | English |
| 12:00 pm | Church | English |
| 1:30 pm | Church | Spanish |
| 3:00 pm | Church | Spanish |
| 6:00 pm | Church | English |
New Schedule for Confessions
Sunday
10:00 am and 11:30 am
Confessions are always available by appointment.Masks and social distancing required.
Eucharistic Adoration / Adoración eucarística
Every Thursday evening for five hours beginning at 4:00pm and concluding with simple Benediction at 8:50pm. All are welcome.
El primer viernes de cada mes tendremos la adoración y alabanza al Santísimo Sacramento de 4:00 p.m. a 8:00 p.m. en español. Esperamos contar con tu presencia.
Masks and social distancing required.
From the desk of
Father Davis
August 21, 2022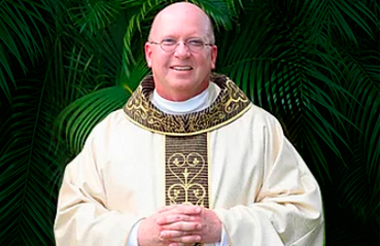 Are you ready to try and enter the narrow door? Today's Gospel challenges believers and non-believers alike to enter into the mystery of a deep life in Christ. Jesus addresses his hearers with blunt poignancy. There's nothing easy about the Christian life! It requires conversion, sacrifice and commitment. It requires the willingness to do whatever is necessary to align our lives with their holy purposes. Enter the narrow door, Jesus says. Don't try and do it the easy way. Don't try to slip in through the side door with half-heartedness about the faith. Don't just embrace a minimalistic approach to commitment to the works of the Kingdom. Invest yourself whole and entire! Enter the way that leads to life in abundance. It will surely be worth the extra time and work!
This challenge has personal implications. Yet, it also has community implications. Our Holy Father, Pope Francis, echoing his two predecessors, has constantly called upon the good people of God to embrace the New Evangelization. Simply put, this means that each of us must be re-catechized, re-trained, reeducated in the ways of the faith. Honestly, our task is not simply to rejoice in converts that join our community at Easter time (though this is wonderful). Our foundational task is to apply the Gospel in all its fullness to our own lives and to the lives of those who are already among the community of the redeemed. The New Evangelization means that we must fan the flame of faith that is always but a seed in our souls, waiting to be nourished and made stronger. The evangelization of the baptized is perhaps the most daunting task of our times. It includes the welcoming home of the wayward, the evangelization of our neighborhoods, the welcoming home of the lapsed Catholic, the passing on of the faith to our loved ones and children, even our own willingness to get serious about life in Christ, taking our spiritual lives to their next level of integrity and depth. There are lots of distractions that keep us from doing this. But, it is our Gospel task. And it is difficult. It's part of the narrow door.
Here at the parish office, we have recently completed an initial review of our census data. Our findings have given us much for which to rejoice. There are 2700 registered families on our parish membership roster. However, we also found that nearly 1,100 families are inactive and have, perhaps, fallen into the category of lapsed Catholics, disaffected, and non-practicing members of our community. I suppose at some point they registered, were involved, attended Mass, and benefitted from the grace of the Sacraments. Then, the cares of the world somehow took them away from us, at least for much of the year. We get a sense of what the parish could look like on a weekly basis, when we recall the crowds on Ash Wednesday, Palm Sunday, Easter, and Christmas. The need for the New Evangelization, and a reinvigoration of the faith in all of our lives, is very clear. In the weeks and months ahead, I would like all of us to dream of what could be. To dare to enter the narrow gate. To reach out a hand of welcome and invitation to people around us, family members, neighbors, working companions, and colleagues; that they might consider a walk with Christ at Saint Gregory Church. If each of us reached just one person, we could have an additional three to six thousand people per weekend. Imagine that! Yes. The narrow door is challenging for us personally, but it also includes a clarion calling to us, as community. The Kingdom of God is at stake! Let us do all that we can to bring one another to Christ, so that, despite the hard work, God's people may rejoice in life in abundance.
The Beauty of St. Gregory Church
Religious Education Program

We welcome all families and children of the parish who are not currently enrolled in a Catholic School. Visit our page for more information about the program.

Make a Gift!
We are grateful for your support to our church. OSV allows you to make contributions to St. Gregory the Great Church without writing checks or worrying about cash donations. OSV is safe and secure and you have full control of the contributions.
For more information on giving or for instructions on how to make an electronic transfer of a gift of stock to St. Gregory, please contact Carla Landron, Director of Development, at clandron@saintgreg.org or (954) 473-8170.
Ministry Directory
You are invited to answer the call to share your gift so that the Mission and Ministry of Jesus is continued in our parish and beyond.
For more information, or to volunteer, please call the ministry leader or the Ministry Office (954) 473-6261, ext 167 or 115.