Mass Times
Weekdays
7:00 am
Church
English
8:30 am
Church
English
Wednesday
7:00 pm
Church
Spanish
Saturday
8:30 am
Church
English
Saturday Vigil
4:00 pm
Church
English
4:15 pm
Parish Center
English
Sunday
7:30 am
Church
English
9:00 am
Church
English
10:30 am
Church
English
12:00 pm
Church
English
1:30 pm
Church
Spanish
3:00 pm
Church
Spanish
6:00 pm
Church
English
New Schedule for Confessions
Thursday
7:00 pm to 8:30 pm
Saturday
12:00 pm - 1:30 pm
Sunday
10:00 am - 10:30 am
11:30 am - 12:00 pm
Confessions are always available by appointment.Masks and social distancing required.
Eucharistic Adoration
We will now offer Eucharistic Adoration in the main church every Thursday evening for five hours beginning at 4:00pm and concluding with simple Benediction at 8:50pm. All are welcome.
Masks and social distancing required.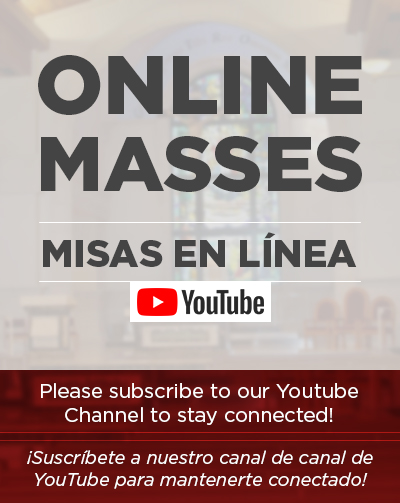 From the Desk of
Father Davis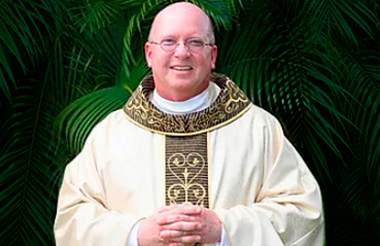 November 29, 2020
Welcome to the season of Advent, and a new liturgical year. Wow! Where has the time gone? December comes this week. It seems like yesterday it was Ash Wednesday! And yet, here we are, beginning another liturgical year preparing for Christmas, and now with fresh hopes for peace and harmony in our lives and among all people of good will.
Our Nativity scene unveiling ceremony this coming Monday is a special experience for our parish community. To observe so many families with their children, all holding lighted candles, pondering the mystery of the Holy Family, helps to put in perspective our common hopes for a better future in Christ. The Holy Family teaches us so much in this regard. Making God the center of our lives is, indeed, the key that unlocks the mystery of life itself. Bethlehem is God's Open House, and we are invited to make our home in the Lord.
As you look at the Nativity scene, which we now have on convenient display easy to see close-up, notice how all the images are looking intently, in wonder, at the Christ child: Mary and Joseph; the shepherds; the three Kings. Even the animals want to get in on the action. The very presence and life-breath of God in the vulnerability of human flesh makes us feel a certain closeness to him, making us feel at home and at peace. Just as Mary and Joseph listened to the voice of God and his promptings in their lives, also, hanging on every utterance and sound that came from the infant Christ-child, can we see in their example an invitation to likewise be attentive to the voice of the Lord? During this holy season of expectancy, the Lord likewise invites us to be at home with him. In a world with far too many distractions to count, we too, are invited to make God the center of our lives and find peace.
One of my favorite traditional Catholic hymns is the song, "Oh God our help in ages past." In a beautiful way, it acknowledges the providence of God under whose care we receive all things. With each passing verse, there is seemingly a deeper reflection on that mystery. In one of its later verses, it states: "Time like an ever flowing stream, bears all its sons away. They fly forgotten as a dream, dies at the opening day." I have always sensed that this verse is an invitation for us to stand humbly before the mystery of time. It is such a fleeting reality! We only have a certain amount of time to make God the center of our existence.
This is why the Scriptures this weekend remind us to be vigilant and alert. We must use our time, in search of God, wisely. We must be in a spiritual posture of ready watchfulness. The precious and brief gift of time that we have been given at this moment in world history will not last forever. It is for the purpose of our sharing in the gratuitous love of God. In his goodness and love, we are given this precious moment in time to live and move and have our being in him. Despite the many personal and professional demands on our time, may we not lose the opportunity to give the Lord primacy of place in our lives.
Oh God our help in ages past, our hope for years to come. Be now our guide while time shall last, and our eternal home.

Make a Gift!
We are grateful for your support to our church. OSV allows you to make contributions to St. Gregory the Great Church without writing checks or worrying about cash donations. OSV is safe and secure and you have full control of the contributions.
For more information on giving or for instructions on how to make an electronic transfer of a gift of stock to St. Gregory, please contact Carla Landron, Director of Development, at clandron@saintgreg.org or (954) 473-8170.
Religious Education Registration

We welcome all children of the parish who are not currently enrolled in a Catholic School. To register your child for class you must visit our Religious Education Office.
Ministry Directory
You are invited to answer the call to share your gift so that the Mission and Ministry of Jesus is continued in our parish and beyond.
For more information, or to volunteer, please call the ministry leader or the Ministry Office (954) 473-6261, ext 167 or 115.