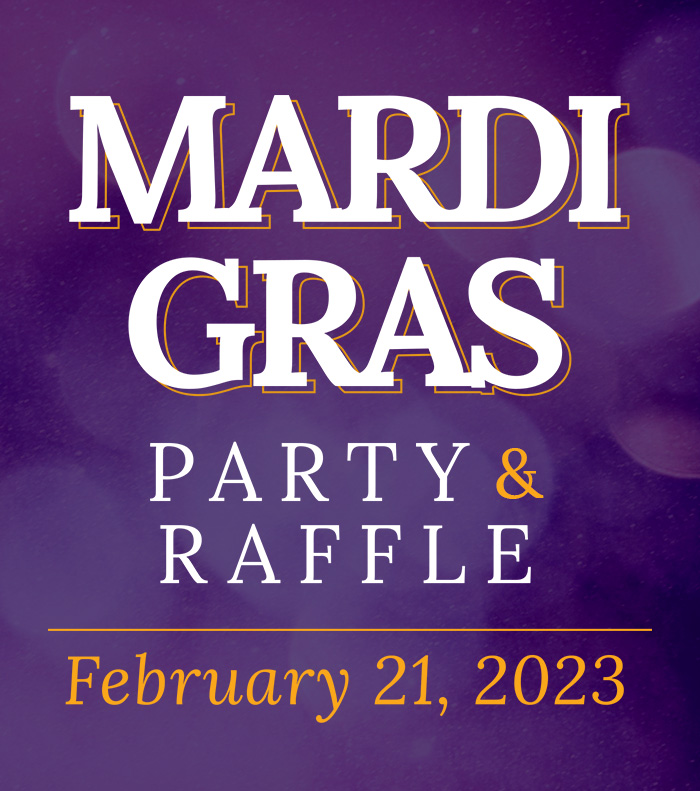 From 6:00pm to 9:00pm in the Gym
The event will feature cocktails, hors d'oeuvres, a live brass band, baskets for bidding, and the grand raffle. Reserve your spot now!
Dress casual in the Mardi Gras colors: Purple, Gold, and Green.
Attendees must be 21 years of age or older.
Spaces are limited and the price for reservations is $40 per person.
---
Raffle Tickets Available!
For eletronic tickets, please visit Saint Gregory OSV Hub, or visit our Development Office (Monday to Friday from 8:00 am to 4:30 pm).
Once you buy your ticket, an electronic entry will be automatically generated for you!
You have the opportunity to win the following prize levels:
Grand Prize: Cash or keys

An upgraded Low Speed Vehicle, Street Legal that seats 6 or - $7,500 Cash.
2nd Prize

Orlando 4 bedroom/4.5 bath 7 day private condo in Celebration that sleeps 10.

3rd Prize

Marco Island 2 bedroom/2 bath 7 day private condo, 1 block from the beach, that sleeps 5.

4th Prize

Total Wine Plantation
private wine class for up to 20 people.
(Restrictions apply to all items, must be 18 or older to buy a raffle ticket)
You can be a sponsor of the 2023 Mardi Gras Event!
Call our Development Office or grab one of our underwriting forms available in the Rectory Office and let us know what character within the Court you would like to be:
KING OF THE COURT

$ 10,000
QUEEN OF THE COURT

$ 5,000
DUKES OF THE COURT

$ 2,500
DUCHESSES OF THE COURT

$ 1,500
PRINCE OF THE COURT

$ 1,000
PRINCESS OF THE COURT

$ 500
---
If you would like to donate other amounts, please contact our Office.
Please note the deadline for recognition.
Graphics and Text is due by January 26, 2023.